Charities We Support
Julia's House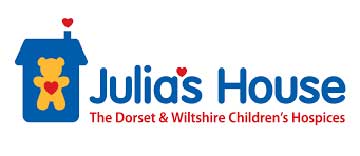 Julia's House is a charity dedicated to supporting children with life-limiting or life-threatening conditions living in Dorset and Wiltshire. The majority of these children are unlikely to live into adulthood. It provides frequent respite and end-of-life care in its hospices in Corfe Mullen and Devizes and in families' own homes across the two counties. As well as caring for children it also supports parents and siblings.
Julia's House looks after the whole family, not just the sick child.
Julia's House receives just 5% of its total annual funding from the government, making it one of the worst-funded hospices in the UK. The charity relies on public fundraising and donations for 95% of its income.
Our mission:
To reach more children with life-shortening and life-threatening conditions and to set the gold standard in flexible, bespoke care that supports the whole family
Our vision:
For local families of life-limited and life-threatened children to be able to access the help they need, when and where they need it and for every member of the family to feel supported, valued, cherished.
The service that Julia's House provides has been rated 'outstanding' by the Care Quality Commission.