Kids Initiative and Community News
Deputy Leader of BCP Council, Cllr Millie Earl, visits Poole Town FC Wessex training facilities
Details

Published: Saturday, 01 July 2023 06:55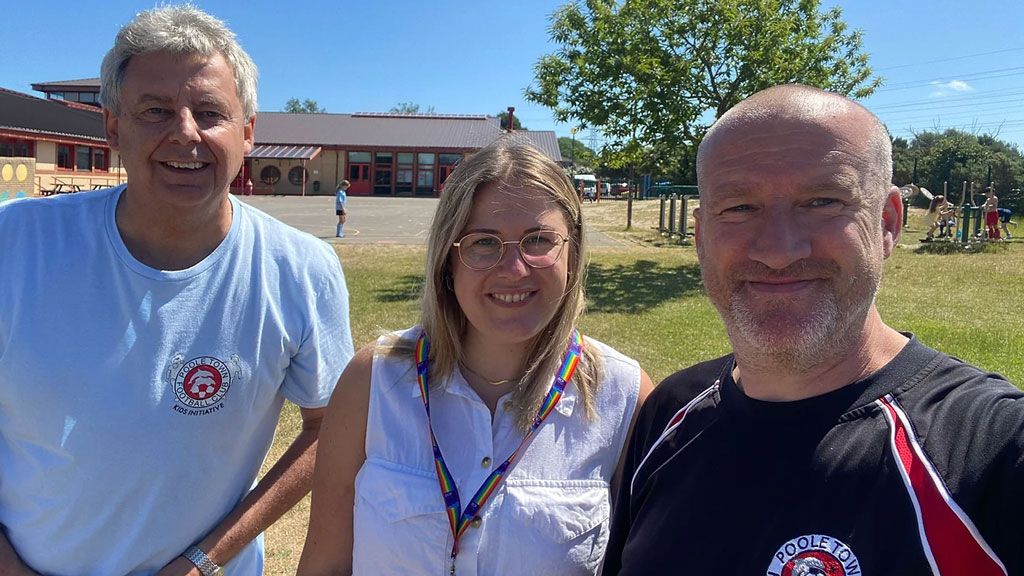 BCP Council Deputy Leader, Cllr Millie Earl (centre), with Poole Town FC Director and Kids Initiative founder, Richard Gale (left), and Poole Town FC Wessex Vice Chairman, Andy White (right)
We were pleased to welome the Deputy Leader of BCP Council, Cllr Millie Earl, to our training facilities on Saturday morning to chat all things football and community.
Millie had previously expressed an interest in seeing first hand our work with the community side of the Club - particularly, in connection with Poole Town FC Kids Initiative. We were delighted, therefore, that she was able to take the time to visit us at our training facilities on Saturday morning to see some of the kids in action.
The Kids Initiative provides free sessions for those who may be struggling for all sorts of reasons to get involved in football. Since 2018, the Kids Initiative, alongside Poole Town FC Wessex, has provided a judgement-free platform for all those who just want to be part of a sports community.
After enjoying watching some of the action from both the Kids Initiative and the U11 Girls league squad, Cllr Earl commented "It was great to meet Andy and Richard to see the fantastic work that the PTFC Kids Initiative is doing to help improve lives through grassroots football. Every child should have the opportunity to play sport, as there are so many positive benefits, and it is projects like this, that rely on volunteers and charitable funding, that are leading the way in making sport accessible to all."
See the original article HERE...
Sign Up below to be kept up to date with our latest news and newsletter releases.