Kids Initiative and Community News Archive 2019
Wave 105 Cash For Kids Jan 2019
Details

Published: Tuesday, 01 January 2019 08:40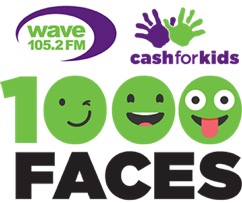 The home game against Gosport on 5th January is designated as a Wave 105 Cash For Kids Day similar to the one we had when we hosted Taunton Town back in October. For those unaware of Cash For Kids it is the charity arm of our local radio station Wave 105 whose primary coverage is through Dorset and Hampshire.
Cash For Kids aims to make a real difference to the lives of children and young adults across the South who need a helping hand. Everything raised in our area stays in our area with a focus of alleviating poverty, supporting disability and improving quality of life.
Our local Cash For Kids team is run by 2 dedicated souls in the form of Sam and Ellie who I have had the pleasure of working with for the past 3 years. Through the year they run a number of fund raising events such as Superhero Day, Mission Christmas and 1000 Faces which raise hundreds of thousands of pounds which is then donated to qualifying projects and organisations within the 2 counties. Poole Town became one of the 1000 Faces during 2018 where the aim of each 'Face' is to raise a minimum of £100 through the year. I'm pleased to say that we raised £187 during the year and the appeal in total at the end of December had raised over £103,000, a figure likely to rise as final donations are added.
We launch our appeal for 2019 with the aim of raising even more. The game was chosen as both Poole and Gosport are areas which benefit greatly from the grants made by Cash For Kids. I will be coming round the ground with my collection bucket and please, if you can, donate any spare change you may have for this fantastic cause.
We welcome families from BCHA, Mosaic and New Forest Young Carer Service, all organisations supported by Cash For Kids, as our guests today. We hope you enjoy the day.
And finally ….. I'd like to wish you all a healthy and happy New Year!
Richard Gale
Vice Chairman, Poole Town FC