Kids Initiative and Community News Archive 2020
2.6 Challenge Charity Support
Details

Published: Monday, 27 April 2020 11:12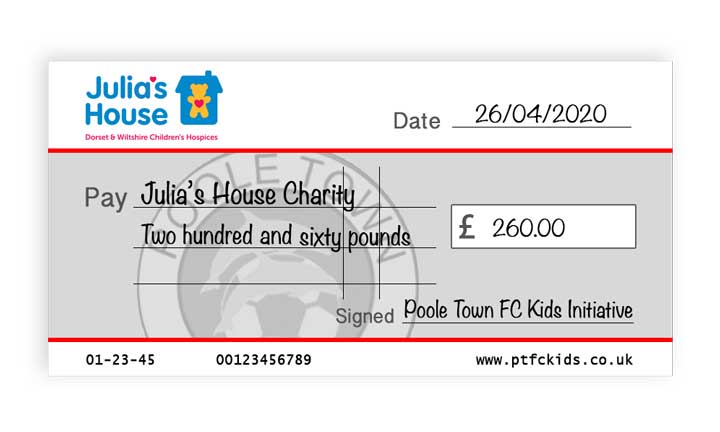 Last week we highlighted the current newsletter of Julia's House, the Poole based hospice providing care and respite for children facing life limiting or life threatening conditions.
Like many charities they face a funding challenge at the present time and one of the articles in the newsletter was seeking volunteers to take part in last Sunday's 2.6 challenge and raise much needed funds for them.
The challenge was to raise money involving doing anything that involved the number 2.6, 26, 260 and so on and charities across the country have benefited hugely as millions of pounds have been raised by the general public for these good causes.
It therefore seemed very appropriate for our Kids Initiative to donate the £250 (plus an additional tenner!), that we had collected from the club's Poole Town Derby Race Night back in January, to Julia's House.
We are delighted to have been able to make this second donation to them having raised £300 for the charity in the Barrow of Bottles draw at our Golf Day last June.