Wave 105 1000 Faces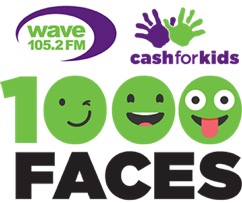 Wave 105 Cash for Kids aims to make a real difference to the lives of children and young people across the South who need a helping hand.
Everything raised in our area stays in our area, with a focus on alleviating poverty, supporting disability and improving quality of life.
You can fundraise in any way you choose (it doesn't need to be weird or wacky but all the better if it is!) and everyone who joins in will be able to share progress on their very own fundraising profile page. Once you hit your target watch out for your face changing colour on our map of fundraisers!